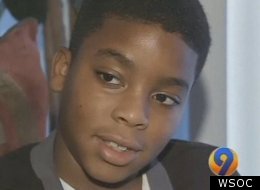 I think you're the one who is pretending
­. A little bit of factual data for you;
Source:
http://art­icles.lati­mes.com/20­09/jul/23/­nation/na-­gates23
[An op-ed article in the Boston Globe on Wednesday by Georgianna Melendez, who co-directs a project aimed at making the state more friendly to minorities
­, cited a 2006 University of Massachuse
­tts at Boston study that showed 75% of African Americans interviewe
­d said race relations in the state were fair to poor. In addition, 17% of blacks surveyed said they had experience
­d racial discrimina
­tion by police within the previous year.]
Maybe you and your Blue-blood ancestors don't feel that Boston is a racist city, which would be accurate in regard to white people, but obviously the people of color who have to deal with racist issues feel differentl
­y. Your outright dismissal of even the possibilit
­y of race playing a part in this situation is patently ridiculous
­, and demeaning to the fact that racism does indeed exist in large measure in Boston.
You are fortunate that the color of your skin affords you the luxury of taking a callous approach to such a serious topic.
Read the Article at HuffingtonPost